fantastic feminist futures
Sat 17. September at 4pm
with Improvisation Group / Maddi Fuente Ubani, Cristina Leoni-Osion, Biljiana Pais, Lena Pozdnyakova, Cristina Viegas
Address: Strandbad Tegelsee /Zentrum für Kultur und Erholung
Schwarzer Weg 95, 13505 Berlin
Hosted by: Neue Nachbarschaft/Moabit and Moabit Mountain College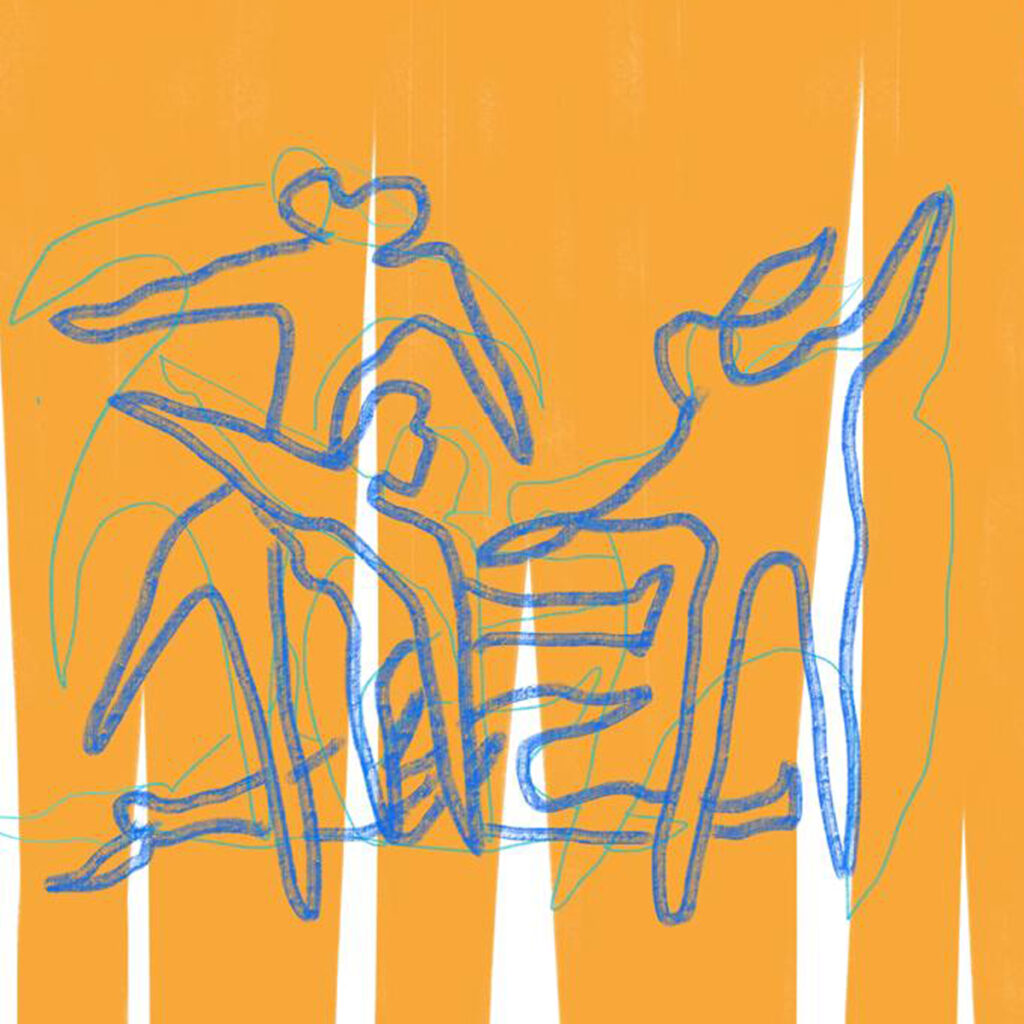 fantastic feminist futures invite the Improvisation Group which was initiated at Neue Nachbarschaft/Moabit by dancer and choreographer Maddi Fuente Ubani. The sessions are an invitation to find one's own movement through free investigation by using images, but also sound or different qualities of movement.

"The research starts alone (in solo) and allows you to create awareness of the space and composition in real time. We work in small groups and all together afterwards, as one breath."
Maddi Fuente Ubani

During the event we will get inside in the group practice: starting from the group warm-up, the investigation of group´s energy, game-alike exercises, to the movement proposal, inspired also by the nature of the place. At the end the group will share in the form of both performer and audience with the rest. For those who are interested in joining the group activity, no previous dance experience is necessary, just the desire to share and search in oneself. Afterwards, we will enjoy a cochlear (akelarre), reflect upon our experience, asking questions, and eating together.
Participation is free of charge. No registration is required.
________________________________________________________
fantastic feminist futures invite artists who relate to intersectional feminist perspectives to introduce their artistic practices. We are interested in bringing to light the processes, the small changes rather than the spectacular leaps, the knowledge of what often remains in the shadows. This close reading of practices happens in the very particular place of Strandbad Tegelsee/Zentrum für Kultur und Erholung: on the one hand remote, in the woods on the lake Tegel, and at once in the middle of the city of Berlin. This gives us the trigger to embrace artistic practices outside the traditional context of the white cube while connecting and reconnecting to the environment. The presentations will be intertwined with the joint preparation of food, walks, or readings, engaging different future orientations.
fantastic feminist futures is started by Nadira Husain, Agnieszka Kilian and Marina Naprushkina.
________________________________________________________

Biljiana Pais is vocalist and composer based in Berlin , DJ battle contest winner in Berghain Cantine, She co-produced Popol Vuh Beyond album, with songs of the cult German band Popol Vuh. She is performing live with maschine jam controller , keyboard and she sings and modifies her voice with looper and effects.
Lena Pozdnyakova is a sculptor and visual artist based in Berlin. She is an alumna of SCI-Arc in Los Angeles, Sheffield University in the UK, and DIA Hochschule Anhalt in Germany. In her artistic research, she explores complex dynamics between cultures and spaces, objects and processes through sound, sculpting, visual art, and performance, as part of the2vv. Sh is recently writing her Ph.D. dissertation in Art History at Freie University in Berlin.
Cristina Leoni-Osion (they/she) is a white, femme, Mediterranean descendant, lover of the sea, and avid home gardener, born on the ancestral lands of the Powhatan and Monican people, also known as Richmond, Virginia, USA. They are currently practicing as a dance artist, community facilitator, and full-spectrum doula based in Berlin, Germany.
Maddi Fuente Ubani is a freelance contemporary performer and teacher from the Basque Country. She works with the collective 123.o and the choreographers Nelli Ahlroth, Ana Kavalis and Alexander Carrillo. She has also participated in a variety of projects, including the piece M.O.S.T by Chaim Gebber Open Scene, the 4th season of "Babylon Berlin" and with the collective "tanz den Widerstand". Maddi teaches improvisation / composition based on contemporary dance at Neue Nachbarschaft /Moabit, Tanzfabrik and Dock 11. The last work she directed was the piece "Tracing Echoes" at the museum Hamburger Bahnhof (Berlin), in the past may.
Cristina Viegas, portuguese born, studied languages and literature, lives and works in Berlin. In Neue Nachbarschaft/Moabit mainly involved in teaching&learning skills with kids.
fantastic feminist futures is a part of the two-year collaborative project Artistic Ecologies: New Compasses, Tools and Alliances conceived in collaboration with WHW, Zagreb, the Rijksakademie van beeldende kunsten, Amsterdam, and Neue Nachbarschaft/Moabit, Berlin.
Co-funded by European Union and Foundation Between Bridges