fantastic feminist futures
Friday, August 4th at 6pm
with Daniela Medina Poch and Raras Umaratih
Address: Strandbad Tegelsee /Zentrum für Kultur und Erholung
Schwarzer Weg 95, 13505 Berlin
Hosted by: Neue Nachbarschaft/Moabit and Moabit Mountain College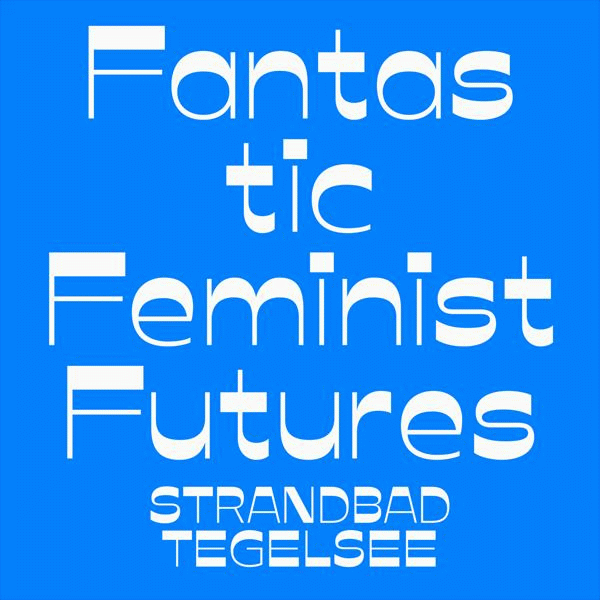 Staying with the Wonder
Un-knowing as a Method
Symbiotic lecture in movement by Daniela Medina Poch

What inner and outer worlds can emerge from un-knowing? Can un-knowing allow a wider listening and a more porous attunement to our environments?
In which ways can the acceptance of not knowing contribute to de-canonizing hegemonic knowledge systems?
'How far should our quests for knowledge reach? A respect for water's unknowability is instead part of an epistemology that would seek a different relation to water – one in which we were not always bending it to a human will, or instrumentalizing aquatic life in the pursuit of human fantasies.'
–Astrida Neimanis
Staying with the Wonder, Unknowing as a Method is a symbiotic lecture in movement around un-knowability as a way to render accountability of often overlooked agencies and interrelations; un-knowability as an experimental approach to ecocentric epistemologies, embodied listening and interspecies entanglements.
In This Restless Third Space
A conversation around map-making and the results of a workshop led by Raras Umaratih
We never really start at the beginning, do we?
Like many things In This Restless Third Space, you have traveled far and sometimes you find yourself not knowing where you are or how you got here.
Through the process of drawing maps and walking in the open air by the lake, Raras Umaratih questions the possibility of giving form to emotional spaces that explore feelings of disembodiment and dislocation, linked to the experience of living between contrasting cultural and geographical contexts.
The artist will present the maps resulting from a workshop she will facilitate at Strandbad Tegelsee with participants of the *foundationClass and will guide us through the bridges and tunnels connecting these different emotional rooms created by the experience of the Third Space.
fantastic feminist futures invites artists who relate to intersectional feminist perspectives to introduce their practices. We are interested in bringing to light the processes, the small changes rather than the spectacular leaps, the knowledge of what often remains in the shadows. This close reading of the works happens in the very particular place of Strandbad Tegelsee/Zentrum für Kultur und Erholung: on the one hand remote, in the woods on the lake Tegel, and at once in the middle of the city of Berlin. This gives us the trigger to embrace artistic expressions outside the traditional context of the white cube while connecting and reconnecting to the environment. The events are organised around exchange and conversation.

Krishan Rajapakshe will be offering us their food concept accompanied by its illustrated comic narrative.

fantastic feminist futures has been initiated by Nadira Husain, Agnieszka Kilian and Marina Naprushkina.



fantastic feminist futures is a part of the two-year collaborative project Artistic Ecologies: New Compasses, Tools and Alliances conceived in collaboration with WHW, Zagreb, the Rijksakademie van beeldende kunsten, Amsterdam, and Neue Nachbarschaft/Moabit, Berlin.
The program is co-funded by European Commission's Creative Europe program and Foundation Between Bridges.
event program at Strandbad Tegelsee 2023
Daniela Medina Poch (she/her) born in Bogotá, based in Berlin is an interdisciplinary artist and researcher. She investigates how unofficial histories and interspecies entanglements contribute to the conception of ecocentric narratives, epistemic bridges that amplify non-hegemonic knowledge systems. She works with the political potential of language and language subversion, and sensitive wonders that are woven into sculpture / installation-performances, lecture-performances and symbiotic listening spaces, artistic pedagogies and collective platforms.
Raras Umaratih (she/they) moved to Berlin in 2018 and studies art at the Kunsthochschule Berlin-Weißensee. Her artistic practice involves individual projects as well as community and collective activities. They use a variety of media, from painting to animation, installation to performance. Her work has also focused on creating ecosystems through composting. They are a member of MilisiFilemCollective, a Jakarta-based non-profit that runs alternative learning spaces for art and films. Her collective projects include jam sessions and poster workshops in public spaces. They also initiated the Decolonial Archive Lab collective zine in her art school.
Krishan Rajapakshe (they/them) is an artist and a designer born in Sri Lanka, who made Berlin their HOME for the last 10 years. Their artistic and design practices revolve mainly around drawing, comics, zines and social kitchen, proposing narratives and counter-narratives that emerge from the context of the migration experiences and their communities. Krishan Rajapakshe is also an educator; they are part of the teaching team of *foundationClass since 2020 and have been guest professor and a lecturer at Kunsthochschule Weissensee Berlin since 2021. They are founding member of magazines such as Zick Magazine in Dresden and ColourfulVoices in Berlin. Their approach to collective and collaborative artistic work is a way of making politics/friends which generate their own communing aesthetics.