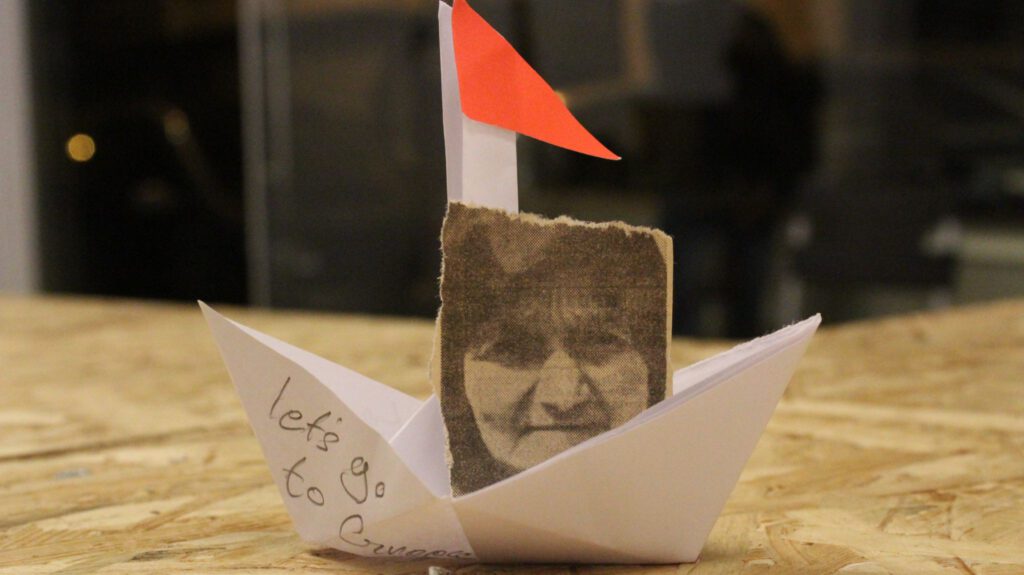 Futuring Migration
online Exhibition Opening and Discussion, Saturday 18th at 6pm
We kindly invite to the online opening and a following discussion "Agency of Images" with Vonne Hemels (writer and activist), Andrea Průchová Hrůzová (academic researcher) and Karolina Gembara (photographer and researcher). The discussion will be moderated by Agnieszka Kilian (curator, author and researcher).
The Exhibition takes place on the windows at Neue Nachbarschaft/Moabit, Beusselstraße 44, 10553 Berlin
zoom:
https://us06web.zoom.us/j/84561181764?pwd=ckJLZ1VDWGN3d1hXL0J0VU8vWjVtQT09
Meeting-ID: 845 6118 1764
Kenncode: 456862
Futuring Migration / Anterior – τώρα – Futures traces lines of resistance along south-eastern European Borders sketching the impact of fortress europe on travellers in art. Gestures of rebellion and empowerment are interspersed with the virtual-real, the topographies of fictions; nations and dreams/nightmares. Between 2019-2021 the island of Lesbos saw convulsing transformations from prison island to NGO cash cow to facist mekka, perhaps reflecting an image from the future where carceral processes define whose dreams are set in stone and whose will shatter along the banks of Skala Sikamneas, sinking slow and disappearing.
We present our project in a disjointed EqUilibrium- the artists still housed in container boxes, the organizers at home on Zoom, the pieces on a Berlin window.
What can we topple? Who can bear the ambivalence?
Futuring Migration – This exhibition is the result of a series of workshops and interventions on Lesbos made between 2019-2021. In a series of participative Workshops, migrant artists (and those aspiring to be) produced the following works in conjunction with our catalyzers Randa Mirza (Lebanon), Riccardo Clementi (Italy), Dr. Nagehan Uskan (Turkey), Jalal Baloch (Pakistan), Costas Vlakos (Greece). We organized the latter in a horizontal and self-reflective manner virtually and on Lesvos itself. Haunted by the virus; the border-industrial complex itself, this intervention, was not without its challenges.
Agency of Images / Discussion
with Vonne Hemels, Andrea Průchová Hrůzová and Karolina Gembara, moderated by Agnieszka Kilian
The discussion tackles  a question of visual strategies on migration. Vonna Helmes established a small cross-cultural printing house where locals and migrants in Lesbos could work together on the  shared experiences of marginalization. Using a risograph printer they intended to offer a space where the stories might be re- told. These collaborative participatory creation processes, based on self-representation  become a starting point for further investigation.  What are the main visual strategies documenting migration or politics of representations?  What images of migration are we exposed to and what do these images produce? The current humanitarian crises on the Belarusian-Polish border led us to ask those questions on agency of images again: what kind of images are able to mobilize for political action, and what kind produce rather the distance and passivity?
Vonne Hemels is a writer and activist. She is the founder of Boom Boom Tales, an NGO working on storytelling workshops and self-organized small-scale publishing, with a focus on migration and environmental issues. She is currently based in the Italian Alps, close to the border with France.
Karolina Gembara is photographer and researcher, member of Sputnik Photos and the Archive of Public Protests. She writes about the effect of photos, their repressive and emancipatory potential, political performance and visual protest. Her artistic practice focuses on participatory activities with refugees in Poland. She teaches photography, visual activism and artistic collaboration.
Andrea Průchová Hrůzová is a researcher and university lecturer. She collaborates with the Czech Academy of Sciences, Charles University and the Institute for the Study of Totalitarian Regimes. In her work, she explores the intersections of visual culture and memory studies and follows the issue of representation of marginalized groups. She has published on visual representation of migrants in the Central European media in European Journal of Cultural Studies (2020). She is a co-author of the artistic book We Have Never Been Earth (VSW Press, 2019). Andrea has translated Berger's Ways of Seeing and co-translated Mitchell's Picture Theory and Mirzoeff's How to See the World to Czech.
Agnieszka Kilian is a curator, author and researcher with a background in law. She initiates and curates projects aimed at the increasing role of art in addressing current challenges. Projects she curated and co-curated: "Controlled Image" (Mamuta Art Center Jerusalem 2010), "Dreams&Dramas. Law as Literature" (nGbK Berlin 2017), "We,the People" (Central Slovakian Gallery 2018), "Calling Justice" (Pawilon/Arsenal Gallery, Poznan 2019).
Futuring Migration
18. December 2021 – 21 January 2022
Neue Nachbarschaft/Moabit, Beusselstraße 44, 10553 Berlin
supported by Allianz Kulturstiftung
In Kooperation mit der Allianz Kulturstiftung